This guide has been created to help students understand what to expect and how to prepare for taking a quiz or exam using Proctorio, a remote proctoring software.
How does Proctorio benefit students?
The University, faculty, and students all have a strong interest in ensuring academic integrity and the fair and impartial grading of exams. One important reason to use Proctorio for test-taking, especially for students in quantitative or pre-med courses, is to assure another institution that your grades are 100% valid. Your future academic opportunities are at stake. There is no other type of reliable proctoring option available for online or remote instruction at this time.
Data Security and Privacy
Let us put your mind at ease…Proctorio was designed to make taking exams more secure. Only authorized professionals at CUSPS have access to your data. All student data is kept safe by Proctorio using zero-knowledge encryption, meaning it is scrambled and unreadable by anyone unless specifically authorized by Columbia University. Even Proctorio cannot see your exam data. Read more about Proctorio data security.
How does Proctorio Work?
You will access Proctorio through Canvas. Proctorio uses software, not people, to observe test takers for various behaviors. It compares your behaviors to those of your peers and flags anything that may be suspicious. Proctorio normalizes all student behaviors, so the occasional looking down or sneeze doesn't mean the gesture will get flagged as suspicious. Proctorio doesn't care if you get up to use the bathroom. However, your faculty might care, so it is best to ask them before starting the exam.
Proctorio makes no determination regarding your academic integrity while taking an exam. Only your instructor can do that. If Proctorio flagged a behavior as suspicious during an exam, your instructor will typically review the video recording that Proctorio made during your test-taking to determine if that behavior was actually suspicious, or not.
For more information about what Proctorio does and does not do, setting up Proctorio, troubleshooting and do's and don'ts while taking a Proctorio exam, please see the Proctorio Guide for Students.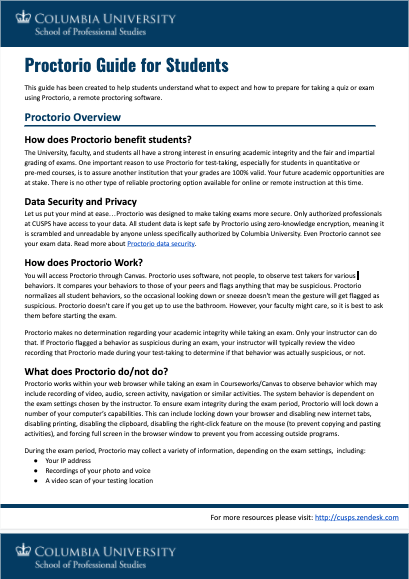 Access the guide by following this link:
https://docs.google.com/document/d/1pq2M1CKO3A4g0Esmvmz7XtHQRpE7NcvrAusqr92U0mk/edit?usp=sharing